Kali Sikaran Instructorcamp Easter 2016
International Kali Sikaran Instructorcamp on Easter 2016 with Dakilang Guro Jeff Espinous. For the first time in Karlsruhe (PSV Karlsruhe). Only for high ranked students (Phase 5 and up) and Instructors (Kadua Guro and up).
---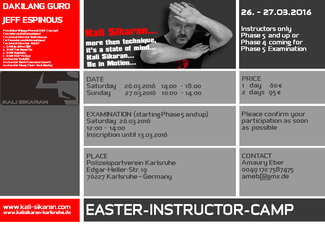 Dakilang Guro Jeff Espinous will show details on the program to his Instructors and will take the opportunity for personal corrections and feedback. So don´t miss this event.
There will be the possibility for examination on Saturday from 12:00 to 14:00. Only examination for Phase 5 and up!
Consider the requirements for Students and Instructors.
---
Seminar Flyer Easter Instructorcamp 2016
Easter_Instructorcamp2016_Bull.pdf
Adobe Acrobat Dokument
79.9 KB